2022 Life & Hope Banquet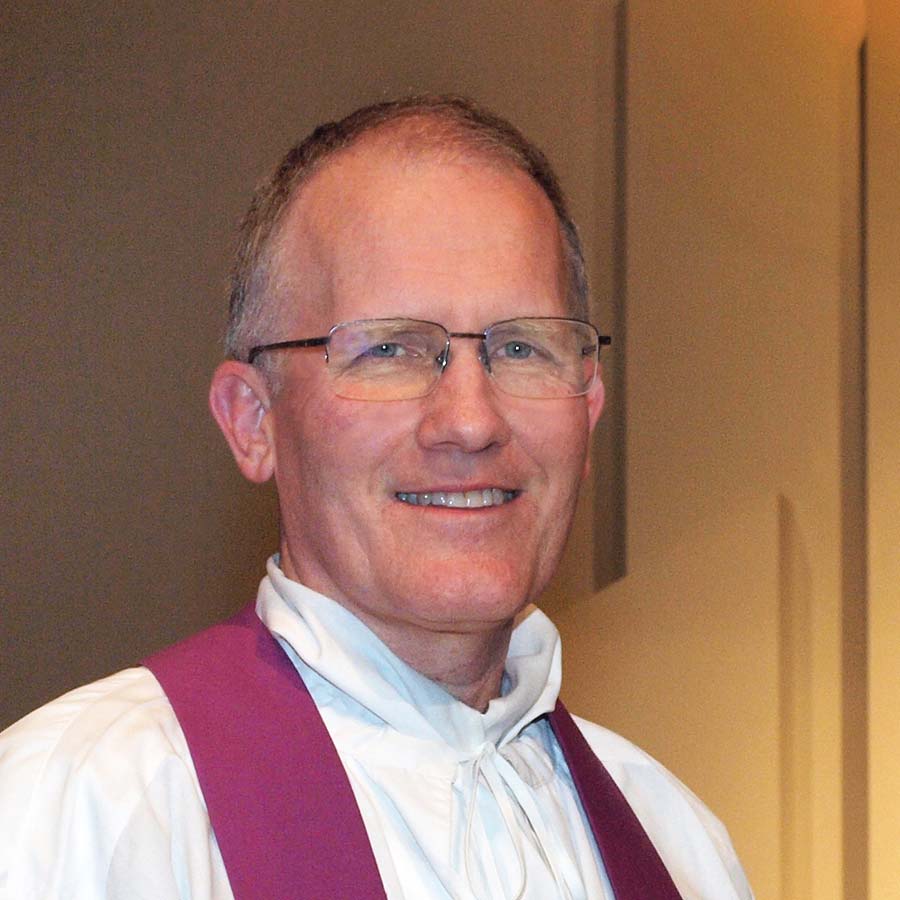 He was mentored by Mother Teresa and has given his life on the front line serving the poorest of the poor. Join Father Robert Conroy—Vicar General of the Missionaries of Charity, priest, author and retreat master—for dinner and a gripping, agonizingly close look at what St. Teresa of Calcutta called the greatest poverty: abortion. He'll share with us why we are all
CALLED TO LOVE BOLDLY.
What is a life worth?
It has been reported that one of Mother Teresa's favorite texts in the Bible is from Matthew: "Truly I tell you, whatever you did for one of the least of these brothers and sisters of mine, you did for me." Fr. Conroy was the third priest to be ordained, in late January 1989, into the Missionaries of Charity order of the Roman Catholic Church she founded. He knew her well and embraced the same call to serve the poor. His account of his life's pursuit and passion is honest. It closes the spaces we erect between ourselves and the battle being waged in our culture over the fundamental right to life.
Fr. Conroy tells us that from the very beginning Missionaries of Charity felt special responsibility to take the message, call to service and beauty of the life of Mother Teresa to the world. With us the evening of Sept. 1, 2022, he will share why abortion was tied to the very core of her life's work and his belief that we are all called to love boldly.
We hope to sell every seat in the house for Fr. Conroy's larger-than-life message, so please register early to secure your seat or table.
"For Mother Teresa, the greatest poverty is the spiritual emptiness that causes people to discard other human beings as useless objects…'It is a poverty,' she said, 'to decide that a child must die so that you may live as you wish.'
"Mother Teresa also identified abortion as the greatest threat to peace in the world. For abortion is not simply a matter of the abandonment and indifference suffered by the poor dying in the streets of Calcutta. It is an act of intentional violence, of direct killing as a means to an end."
Excerpt from a post adapted from an article by Marcellino D'Ambrosio published by the Catholic News Service in August 2016 and appearing by permission at: https://www.crossroadsinitiative.com/media/articles/mother-teresa-abortion/
Platinum
Mike & Theresa Murphy
Gold
Archdiocese of Kansas City in Kansas
Ed & Rosemary Brown
Ryan Lawn & Tree
Steve & Kim Wisdom
Silver
Anonymous
Anonymous
Anonymous on behalf of Holy Angels Basehor
Dr. Nick & Dr. Katherine Aberle
Catholic Charities of Northeast Kansas
Tom & Suzette Clark
Carol Dengel
Gerry & Connie Euston
Lilly Fullman
Randy & Debbie Huber
Kelly & Debbie Kephart
Angela Laville
Randy & Julie Newcomer
Michael & Megan Ostendorf
Mark & Judy Rielley
Ernie & Susan Straub
Guardian
Richard Anderson & Gloria Delich Anderson Family Foundation
Anonymous
Dr. Charles & Grace Barth
Jon & Michelle Diller
Greg & Lucy Kuhn
Gene Schnake
Table
Anonymous
Ascension Knights of Columbus
Bishop Miege High School
Greg & Beth Bruning
Tom & Nancy Bunker
Paul & Karen Camarata
Church of the Ascension
Cure of Ars Knights of Columbus
Paul & Mary Danaher
Diocese of Kansas City St. Joseph
Larry & Sylvia Eker
Tom & Barbara Erker
John & Connie Freeman
Bill & Kate Foster
Joseph & Janet Gose
Holy Trinity Catholic Church
Jeffrey & Stephanie Kupper
Lockton Companies
Deacon Mark & Gail Mies
Sean & Karen Miller
James Moll
Janice Norman
Sacred Heart KCK Knights of Columbus
Sacred Heart Tonganoxie Knights of Columbus
Shawnee Knights of Columbus
St. Michael the Archangel
St. Thomas Aquinas High School
The Onyx Collection
Jerry & Meagan Viviano
Wea Knights of Columbus
Jake & Keli Wike
Ambassadors for Life
Archbishop Joseph Naumann
Linda Baca
Carol Dengel
Tom Erker
Connie Euston
Patrick Herrick, M.D. (Medical Director)
Debbie Huber
Geraldine Jones
KS State Senator Mike Thompson
Linda Meiers
Bruce Snider, M.D. (Medical Director)
Chris Wilborn
We also sincerely thank our dedicated volunteers. This gathering would not have been possible without your support.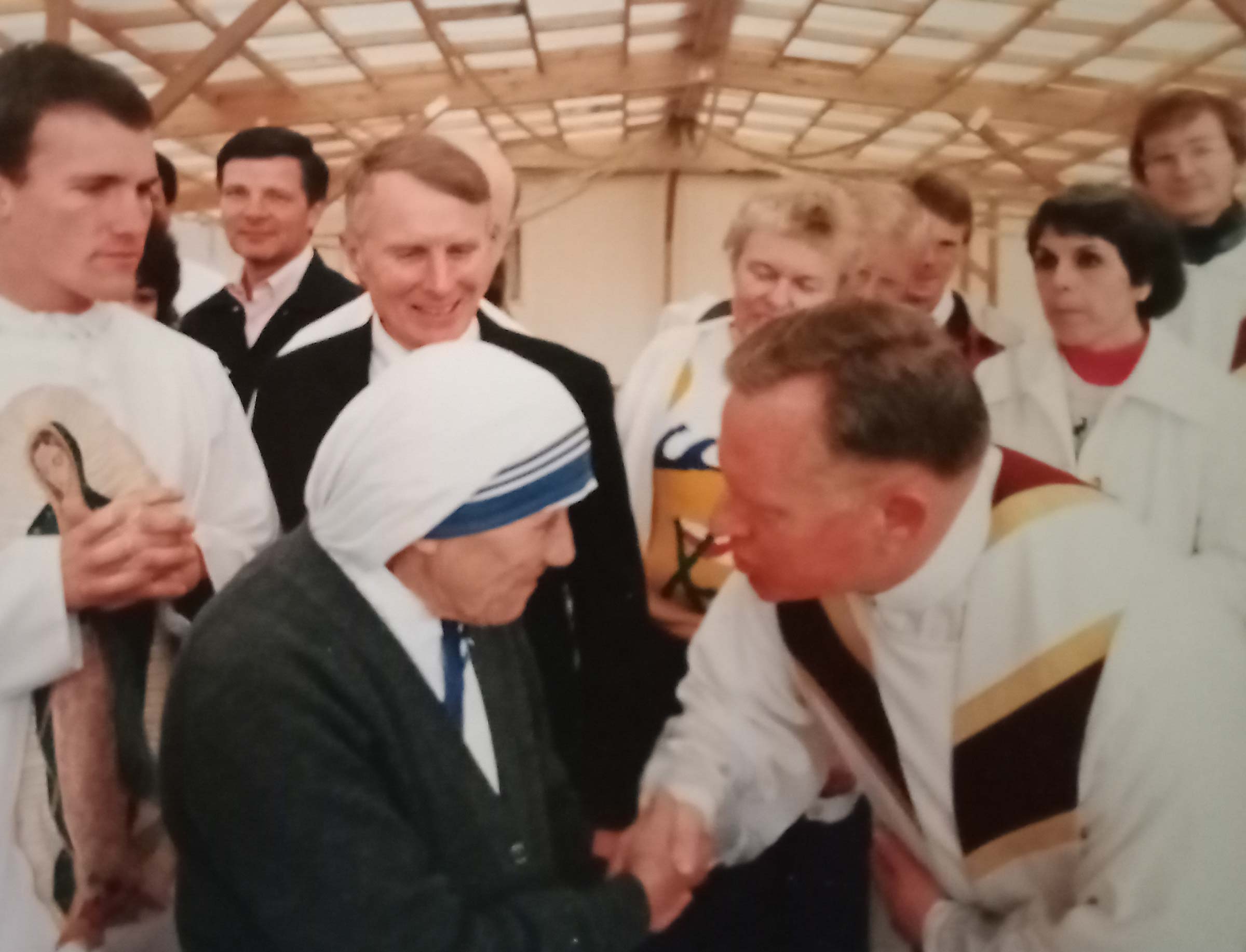 Our Distinguished Guest: Father Robert Conroy
Our keynote speaker has been active for nearly 30 years in over 30 countries. Born in 1961 in Minneapolis, Minnesota, Fr. Conroy works in both rural and urban areas with native peoples and the homeless, alcoholics, drug addicts and gang members in prison.
Fr. Conroy was the third priest to be ordained, in late January 1989, into the Missionaries of Charity order of the Roman Catholic Church, which was founded by Mother Teresa. A Topeka Capital-Journal photojournalist's first-hand account* says the ordination took place outdoors in Tijuana, Mexico, in an area of extreme poverty. Far from the grandeur of a large church or cathedral, there were no stained-glass windows, spires, church bells or comfortable pews. Those who gathered sat on long, wooden boards placed on top of cinder blocks on a floor of dirt. Despite the sparse surroundings, they experienced unmistakable joy over the witness to the occasion who stood among them: Mother Teresa.
Now Vicar General of the Missionaries of Charity, a priest, author and retreat master for many throughout the world, Fr. Conroy will share his personal understanding of Mother Teresa with us. He will inspire us with his first-hand account of her simplicity, holiness and deep faith journey and the impact that had on his own life and call. He will bring us to a deeper recognition of the poverty of abortion.
*https://www.cjonline.com/story/lifestyle/faith/2019/12/13/phil-anderson-remembering-topekans-1989-ordination-into-mother-teresas-order/2075472007/
Reserve a table for colleagues and family!
We are currently accepting table reservations for sponsorships of $1,000 and above. Please call 913.287.8287 or email lconner@wpcnetwork.org if you have questions or would like to make a reservation.
The Most Reverend Joseph F. Naumann, Archbishop of Kansas City, Kansas
Host Committee Chair
Dr. Nick and Dr. Katherine Aberle
Archdiocese of Kansas City in Kansas
Catholic Charities of Northeast Kansas
Tom and Suzette Clark
Carol Dengel
Gerry and Connie Euston
Lilly Fullman
Mike and Jessica House
Randy and Debbie Huber
Angela Laville
Mike and Theresa Murphy
Randy and Julie Newcomer
Michael and Megan Ostendorf
Mark and Judy Rielley
Ryan Lawn & Tree
Ernie and Susan Straub
Steve and Kim Wisdom
Tickets on sale now!
Reserved seating will go fast!
Our Mission
At the Wyandotte Pregnancy Clinic, Inc., in Wyandotte and Olathe, we understand women have a right to make their own decisions about the outcome of their pregnancy and their sexual health. Our goal is to support women and their families with unplanned or unwanted pregnancies and walk with them through the decisions they must make during what can be a very challenging time. Every woman's situation is unique, and so are her needs. We offer the resources and support to help our clients make decisions that best fit their individual needs.
As a non-profit organization, we will never profit from the services we provide, including free pregnancy tests and sonograms to confirm current health situation. If our client decides to parent, we offer a comprehensive mix of resources and services designed to promote readiness and confidence. These include:
Consultations with a licensed adoption agency
Parenting education and classes
FEMM (Fertility Education and Medical Management) classes
Community resource referrals
Life skills education
Free baby items
Diapers and supplies
Support for the first three years of the baby's life
STI testing and treatment
Registration is non-refundable. Proceeds help the Wyandotte and Olathe Pregnancy Clinics achieve the highest standards of excellence and provide quality care, resources and support to women facing an unplanned pregnancy or struggling to make a choice for life.